The Moderne Gentleman
Regular price
$109.99 USD
Regular price
$179.99 USD
Sale price
$109.99 USD
Unit price
per
Sale
Sold out
Travel Like A Boss 


- Benefits -
Less Baggage -

 

Packs all of your business essentials with ease and meets the carry-on bag requirements. Which means you can travel light and still have all of your business attire readily available to you without having to check in a bag
Water

-R

esistant -

 

Water-resistant fabric lining that keeps your clothing dry and other materials safe from any potential water damage. So you never have to worry about your clothes getting wet. 
Reliable - Impact resistance as well as providing you extra protection. Making sure that your clothes are completely safe so you can be styling and profiling without any wrinkles or torn fabrics.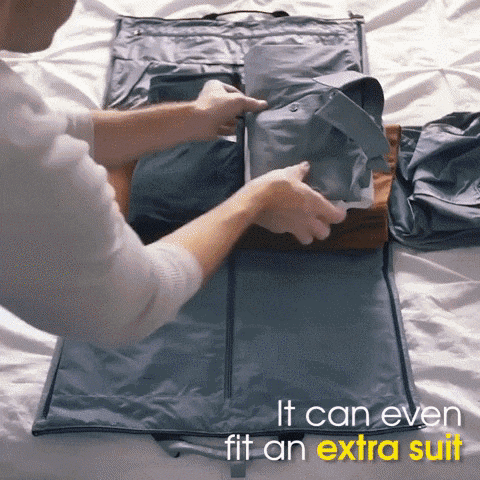 Wrinkle Free Suits -

 

Making it a breeze to throw right on soon as you hop off the plane. The suit compartment keeps your suit neatly organized and stowed away so you can just grab it and go. Giving you less hassle when you have to get ready in a hurry for your next meeting.
Multiple Interior Pockets -

 

Keeps all of your belongings stowed away and in place specifically designated for different areas. One pocket for your shoes, one pocket for your smartphone accessories, and another one for any important business documents or travel papers. Keeping you better organized and knowing where everything is without rushing at the last minute.
SATISFACTION GUARANTEED
If you are not happy with The Moderne Executive Travel Duffle Bag, we offer a 30-day money-back guarantee. 

Do you want to travel like a normal business person or do you want to travel like the CEO of the company? Fortunately for you, we created The Moderne Executive Travel Duffle Bag with you in mind. Built with world-class material that will have you feeling like a million bucks and traveling like first-class without all the extra baggage.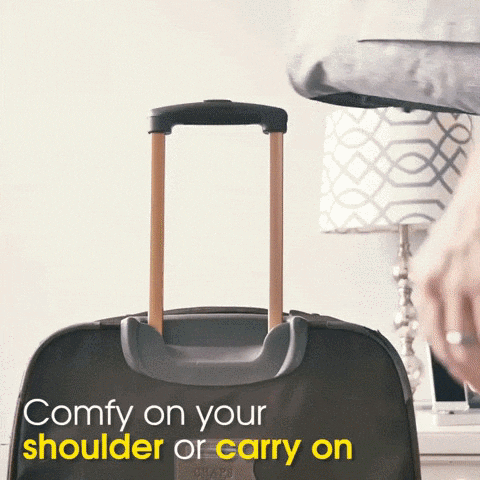 Compact design that meets the carry-on bag requirements every single time. So not only we're saving your suits from getting wrinkled, we're also saving you from paying that extra baggage fee at check-in.
Made with multi-point compartments that makes it much more easier for you to navigate and find all your belonging. It comes with designated pockets to fit your shoes, suits, and even your laptops and smart devices. Keeping you well organized and everything easily accessible to you all throughout your entire travel.


Uniquely formulated with Impact-resistant design with waterproof lining all throughout the fabrics with an extra protection coating surrounding the interior of The Moderne Executive Travel Duffle Bag. Providing your belongings with extra protection from the harshest of weather conditions and prevents wear and tear all months of the calendar. So you can travel as a boss deserves to for years and years to come without having to buy another bag so soon.
What is really amazing about The Moderne Executive Travel Duffle Bag is not just the cool features and functionalities. It's when you hop off that plane and head start turning and they look at you and you look like you mean business and a whole lot of it. Get yours today and start traveling in luxury with The Moderne Executive Travel Duffle Bag. A true game-changer for all business travelers across the world.


Additional Specs

Regular Bag Size = 45L
Open Dimensions = 38" x 21"
Closed Dimensions = 22" x 11" x 12"

XL Bag Size = 45L
Open Dimensions = 39" x 22"
Closed Dimensions = 22" x 12" x 12"
Share
View full details
---
See What Others Also Bought…
Stay organized in style
with separate compartments for shoes, laptops, and more.
Suit Pocket (Up to 3):
Up to 3 separate pockets designed to keep your suits safe from wrinkling.
Laptop Compartment:
A key feature of the bag, providing a secure and padded space to store your laptop while on the move. The compartment is located in the main section of the bag.
Toiletries:
The waterproof design makes it a perfect choice for storing toiletries, ensuring that your personal items stay dry and protected.
Shoe Space:
The shoe compartment is a separate section of the bag that is designed to keep your shoes separate from your clothing and other belongings.
Side Zipper:
The side zipper can hold passports, keys, wallet and any other carry-on items.
What makes the Travel Duffle Bag the best?
Durable and Long-Lasting:
Durable and Long-Lasting:
Crafted from high-quality materials and featuring traditional craftsmanship techniques, this bag is built to last, ensuring that it will be a trusted travel companion for years to come.
Practical and Versatile:
With a detachable shoulder strap and a back zipper pocket for attaching to your luggage, this bag is both practical and versatile, allowing you to easily carry it as a duffle or over your shoulder.
Practical and Versatile:
Designed for Travelers:
Premium, Handstiched Travel luggage
Lightweight yet durable construction that provides both practicality and longevity.
The waterproof design and easy-to-clean surface, keeps your travel essentials dry and protected.
Designated pockets and spacious storage spaces make packing and organization effortless.
Reviews